Ignacio Araya
PhD in Astrophysics, Universidad de Valparaíso, Valparaíso, Chile.
Assistant professor at Centro de Investigación DAiTA Lab, Universidad Mayor.
Email: ignacio.araya@umayor.cl
Publications: See Publications
Research: Massive stars, stellar winds, hydrodynamics, radiative transport, numerical optimization
My primary research goals are focused on massive stars, mainly in their strong stellar winds. I use hydrodynamic codes and radiative transfer codes to model the available observational data of these stars. Also, I have worked on numerical optimization for orbital parameters of binary systems using a genetic algorithm.
Projects in execution:
PI: "Physical Parameters of Massive Stars" Fondecyt Iniciación Nº11190147, 2019-2022
CoI: "Stellar winds in massive stars" Fondecyt Regular Nº 1190485, 2019-2022
Master thesis link: Repository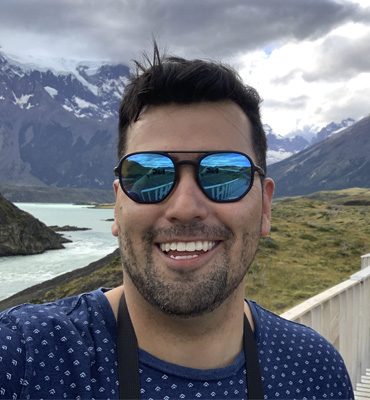 Alex Gormaz Matamala
PhD in Astrophysics, Universidad de Valparaíso, Valparaíso, Chile.
postdoctoral research at Instituto de Física y Astronomía, Universidad de Valparaíso.
Email: alex.gormaz@uv.cl
Publications: See Publications
PhD Thesis
Master Thesis
Research: Line-driven winds, mass-loss, radiative transfer, synthetic spectra, evolution of massive stars.
My research is focused on the calculation of theoretical values for the wind parameters of hot massive stars (spectral type O), being mass-loss rate the most important one.
For that purpose, we look for solutions of theoretical equations describing the acceleration of the wind, consistently with hydrodynamic code Hydwind (performed by Prof. Michel Curé) in order to predict these wind parameters. In an attempt to unify all element, the theory of line-driven winds for massive stars, we currently study the impact of the small-scale inhomogeneities (the so-called clumping) over the resulting line-acceleration. This study is being done using the radiative transfer CMFGEN. Theoretical mass-loss rates calculated by us are being used to fit synthetic spectra with the code FASTWIND, reducing the number of free parameters. Besides, these new mass-loss rates are necessary to perform new evolutive tracks using the Geneva-evolutive-code (GENEC).
Projects in execution:
Associated researcher: Physics of Extreme Massive Stars, MSCA-RISE 823734, 2018-2022