Michel Curé
Dr. rer. nat. Physik, Ludwig-Maximilians-Universität, Munich, Germany.
Full professor at Instituto de Física y Astronomía, Universidad de Valparaíso.
Phone: (+56 32) 250 5519
Email: michel.cure@uv.cl
Publications:  See Publications  
Research: Massive stars, stellar winds, hydrodynamics, radiative transport, numerical methods, astrostatistics, astrometeorology
My main line of research is massive stars, and particularly the manner in which they lose mass (stellar winds and hydrodynamics). We use different codes for obtaining the synthetic spectra of stars, Hydwind (developed by our group), FASTWIND & CMFGEN for radiative transport. We also do research in astrostatistics, applying new statistic tools for solving astrophysical problems, for example in the distribution of rotational velocities of stars or the distribution of mass ratios in binary systems. Another area we cover is astrometeorology, that is, understanding and predicting the atmospheric conditions over international observatories built in Chile. We pay particular attention to precipitable water vapor predictions and seeing.
Projects in execution:
PI:

"Stellar winds in massive stars" Fondecyt Regular Nº 1190485, 2019-2022

PI:

"Paseando por el Sistema Solar" G

emini-Conicyt outreach Nº 32190009, 2019 – 2021

PI:

"Decretion disks and outflows around Fast-Spinning stars", Conicyt Chile – FAPESP Brazil Nº 13354-1, 2020-2022

CoI:

Physics of Extreme Massive Stars, MSCA-RISE 823734, 2018-2022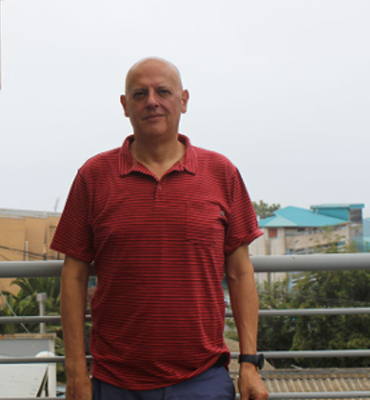 Catalina Arcos
PhD in Astrophysics, Universidad de Valparaíso, Valparaíso, Chile.
Assistant professor at Instituto de Física y Astronomía, Universidad de Valparaíso.
Phone: (+56 32) 250 8301
Email: catalina.arcos@uv.cl
Publications: See Publications
Research: Massive stars, stellar winds, Be stars, line variability
My research focuses on the study of the variability of Be stars, disk and stellar parameters, their rate of mass loss and the connection with disk formation. To do this, we created the BeSOS website: https://besos.ifa.uv.cl that contains reduced HR spectra of southern Be stars observed with the PUCHEROS spectrograph. We restrict the star parameters of 71 Be stars using stellar atmosphere modeling. Projected rotation speeds were obtained for all spectra, as well as EW, DPS, V / R in the H-alpha line.
Projects in execution:
PI:

"Long-term variability in Be stars: features of the outer disks" Fondecyt Iniciación Nº11190945, 2019-2022
PI: "Talleres de Física y Astronomía para residencias familiares del SENAME en la región de Valparaíso", outreach, ESO Comité-mixto, 2021
PI: "Mito & Rali in the land of stars", outreach, ALMA-CONICYT Nº31190014, 2019-2020
CoI: "Stellar winds in massive stars" Fondecyt Regular Nº 1190485, 2019-2022
CoI: "Elemental la fuerza de la naturaleza", outreach, CIENCIA PÚBLICA 2021-2022
Associated researcher: Physics of Extreme Massive Stars, MSCA-RISE 823734, 2018-2022